It's now officially 2018 and though I thought I'd missed by chance to do a yearly roundup, it seems that there are still a couple of days left before we're all properly committed to this new year.
I've picked print titles for this round up, I may even through together an audio edition tomorrow if I have sufficient caffeine and painkillers (I've managed to time hurting my back with paying for an annual gym membership. Masterful.). It's always hard to choose a favourite book so I've assigned two criteria: 5 stars and 'would I read it again?' or I'll be here forever! I managed to hit my 150 book Goodreads Challenge on New Year's Eve and I can't imagine trawling through that lot.
So here it is, in no particular order here are my favourite print titles of 2017 :
Click on the covers to see the synopses and my original reviews
The Witch Finder's Sister by Beth Underdown
It was the writing that stood out for me with this book – it had everything a historical fiction novel needs and featured one of the most fascinating times in history (in my opinion), when everyone turned against each other and started committing the most heinous acts in the name of religion.
Final Girls by Riley Sager
I loved this book, the twist at the end was exquisite and wholly unexpected and the author managed to create some really amazing characters. 
The controversy about this author actually being a dude using a pseudonym didn't break out until I'd already finished the book and though I do feel oddly cheated, I can't identify why. A well written book is a well written book, but it does feel a bit unwholesome that a successful male author now has to steal the spot of a female author to sell yet another book.
The Sins Series by Eve Silver (it's a series rather than one book but what the hell)
This series had everything I love in a paranormal romance series – kick ass women, loads of sex, a formula and some mythological level conspiracies. 
Bleed Through by Adriana Arrington
This book was something special, I had to put it down a few times during the reading of it to get some clear headspace because the author's portrayal of schizophrenia is incredibly intense.
My congratulations to the author for creating a book that I'll never be able to forget!
At the Edge of the Orchard by Tracy Chavalier
I read this book while camping in Newquay with some friends, there's something extra cosy about reading a book about trees while sleeping outdoors. 
I never knew that a historical character drama about trees would be one of my favourite books of all time.
Slashvivor! by Stephen Kozeniewski and Stevie Kopas
This book hands down wins my 'favourite cover' award as well as being one of the most ultraviolently fucked up books I've ever read. It was a pure joy to read – I'm a die-hard B-movie fan anyway and this book allows me to choose my own awful blood splatter effects!
I'm still not sure what I expected from a dual-author title but this was seamless and most excellent.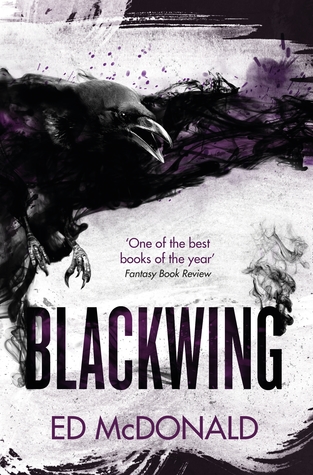 Blackwing by Ed McDonald
This book is highest up on my list of 'books I'll read again' because I've already forgotten the finer points of the magical world, but what has stuck with me is the strength and complexity of the characters. I'll be looking for a re-read before the sequel is out!
Inferior by Angelia Saini
I've read more non-fiction sciencey books this year than I have since graduating uni…. some years ago. This was the perfect balance of informative, thoughtful and feminist that I needed to get me back into non-fiction titles.
My Christmas Goose is Almost Cooked by Eliza Watson
I love all the Caity Shaw novels but this one was my favourite yet – for me, I get my kicks from watching Caity find her professional footing and gradually realise that she's good at her job. 
This feeling only grows with each book so I'm chomping at the bit for the next one!
Shoeless Child by J.A. Schneider
This is actually the second book in this series that I've read this year but it's my favourite – the series follows Detective Kerri Blasco through some amazingly violent and nasty murder cases but this one featured something more terrifying – a young child who witnessed his mother being shot. 
It's the human element of this story that I found so compelling.
---
It's funny, looking at my top 10 choices of the year it's hard to really find much of a pattern to my reading preferences. I like gore, violence, trees, science, historical fiction, funny workplace capers, magic and romance. So…. any recommendations on that count?
Did any of these books or authors make your 2017 list?